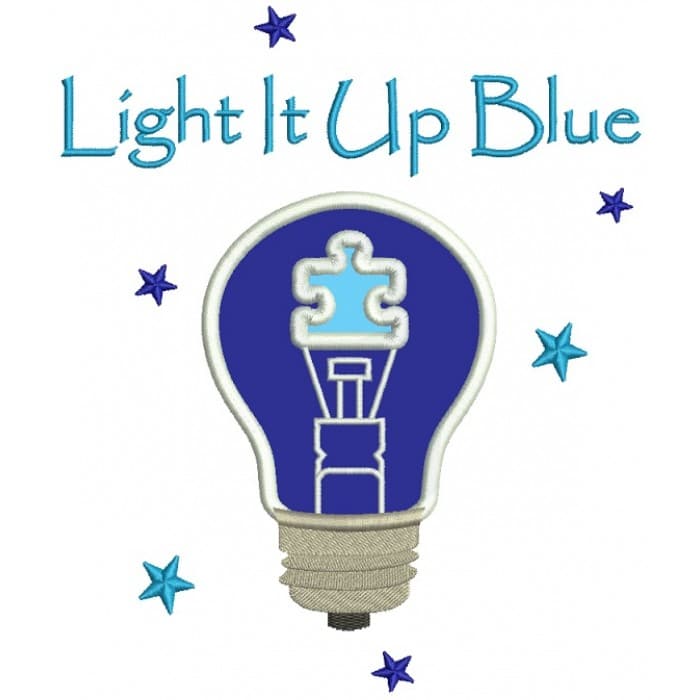 Lighting it up blue for World Autism Awareness celebrated each year in April is our way of supporting children and individuals with autism. Autism awareness activities increase world knowledge of autism and impart information about the importance of early diagnosis and intervention. Additionally, we celebrate the unique talents and skills of those with autism around the world during this time of the year.
American Advocacy Group will Light It Up Blue along with the international autism community. In honor of people with autism worldwide, iconic landmarks, hotels, sporting venues, concert halls, museums, schools, universities, bridges, retail stores, and thousands of homes will light blue as well!
Ways You Can Light It Up Blue
Light Homes, Businesses, Schools, and Landmarks Blue:
Change outdoor or indoor white bulbs to blue bulbs
Tint windows with blue gel sheets
Cover existing fixtures with blue gel filters
Project the Autism Speaks puzzle piece or Light It Up Blue logo on walls or buildings
Wear Blue:
Ask family, friends, coworkers, and staff to wear blue (ties, scarfs, shirts, etc.)
Supply Autism Speaks lapel pins, bracelets, or other blue accessories to wear during the month of April 
Post Blue:
Personalize your LIUB Selfie Sign to tell us where you Light It Up Blue
Post your photos on Facebook, Twitter, Instagram, or Flickr with the hashtag #LIUB to be a part of the global autism awareness movement!
Turn your Facebook or Twitter profile picture blue
Tweet autism facts with the hashtag #LIUB
Raise Awareness with Blue:
Distribute information about autism, World Autism Awareness Day, and Light It Up Blue in your establishment, neighborhood, or company
Invite a local Autism Speaks representative to speak to your staff, school, or town about autism and the Light It Up Blue campaign
Reach out to local media to let the community know about your great work for the autism community
If you need more information about how to Light It Up Blue, or you need resources regarding how to advocate for your loved one with autism, please contact us.
The mission of American Advocacy Group is to assist you with first-class, affordable advocacy services that benefit individuals with disabilities and their families. We serve those with a multitude of challenges, including autism, Down syndrome, cerebral palsy, learning disabilities, and physical disabilities as well.
We know how difficult it can be to find the right information. We are proud to offer our services to your family, which include resources, advice, and assistance for In-Home Supportive Services (IHSS), conservatorships and special needs trusts, educational advocacy, and due process representation. With a powerful team that has years of legal expertise throughout California, we will represent you and protect your rights to ensure your voice is heard. You have enough to focus on; let us do the rest.
CONTACT US FOR HELP.
Dial (877) 762-0702 or email us at [email protected].